811-0001 Clear Matt Natural Hard Wax Oil - Internal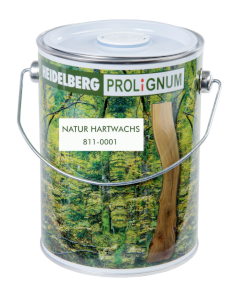 Heidelberg Natural Hard-Wax Oil is state-of-the-art surface coating with a high-grade wood finish based on the near-natural raw materials. Suitable for the whole interior construction i.e. stairs, wood floors and furniture.

Natural Hard-Wax Oil is a viscous hardening oil-wax combination with solid content based on vegetable oils and wax components
This product has been tested in accordance with LFGB~31, it is waterproof, resistance to saliva and sweat and it is completely Toxfree. The natural composition is extremely gentle to people and environmental.
Especially recommended for light colour wood species due to preservation of natural colour of wood.
Application: Spray, Brush, Roller, Cotton Rag...
THIS EXCEPTIONAL QUALITY PRODUCT IS TOY AND FOOD SAFE
Photo for illustrative purposes only. Product will be dispatched in custom, labelled packaging.